BLOG
|
Company News
|
April 02, 2020
Introducing OneTrust Athena to CookiePro Customers
We're excited to share the launch of OneTrust Athena, a powerful AI, bringing machine learning, predictive intelligence, and robotic...
We're excited to share the launch of OneTrust Athena, a powerful AI, bringing machine learning, predictive intelligence, and robotic automation that customers can leverage in the CookiePro platform which is powered by OneTrust.
Continued compliance with global privacy and security laws and frameworks is hard to keep up with without support, and as regulations develop your compliance program must evolve too. This is where Athena can help SMBs take their website compliance program to the next level.
To learn more register for the webinar: Streamline Your Privacy, Security & Trust Program with OneTrust Athena AI.
---
How Does Athena Work?
With artificial intelligence, Athena can help your team remove manual tasks and repetitive actions. For example, dealing with consumer rights requests and streamlining complex workflows and integration with other compliance technologies to simplify your consent and preference management efforts.
Athena can adapt to your business, learning over time what your exact needs are with building up your customer trust by leveraging machine learning models on your data sets. The more you use CookiePro, the smarter Athena gets.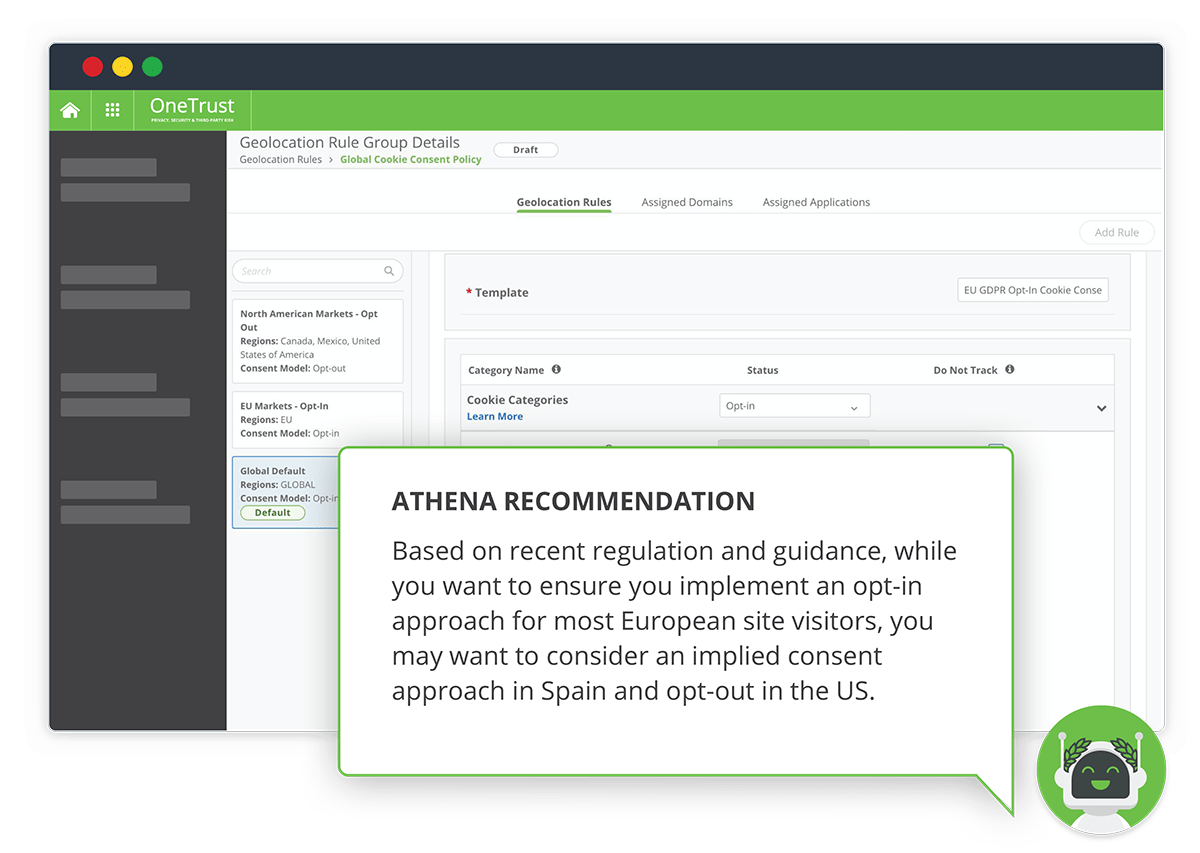 Suggest Optimal Geo-Location Configuration
OneTrust DataGuidance maps all ePrivacy requirements across the globe and monitors regulatory guidance and rulings, so Athena is constantly up-to-date with this information
Athena is also integrated across your instance, so from your records of processing, assets, and vendors she knows all the places that you do business
Based on this knowledge, when you add a new website Athena suggests optimal geo-location rules to deploy to ensure you remain compliant while optimizing opt-ins across your web properties
Keep Collection Points Up to Date
Organizations often struggle to keep track of all the places where they directly collect personal information across their web properties through web forms and other collection points
CookiePro's website scanning solution automatically scans all of your websites and detects all forms where personal information is being collected and the type of information collected on each
From these scan results, Athena suggests consent collection points that need to be created or updated in the Consent module along with the associated details like what data elements are collected, where the form is hosted, which policy is used, and more.
Simplify Consumer Request Automation
Tell Athena which manual tasks are required in fulfilling a consumer rights request using the drag-and-drop automation builder.
When a request is submitted Athena routes them through these pre-defined workflows, with no human interaction required.
Athena can verify the identity, flag exceptions, access or action the requestor's data in other systems, and suggest responses to send to the individual.